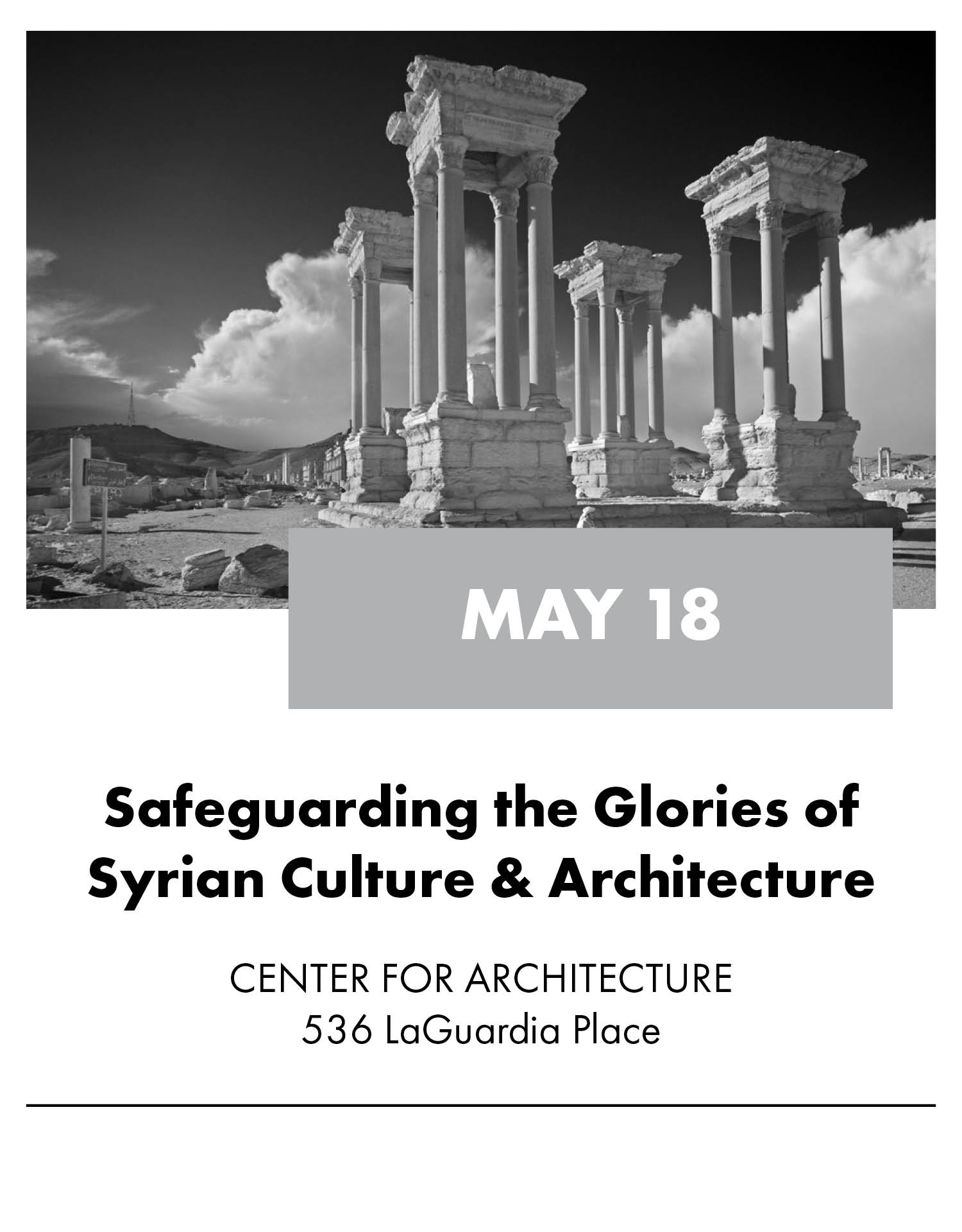 Doors Open 3:00pm / Program 3:30 - 5:00pm
A conversation about the role of the architect in reconstructing communities devastated by conflict, the significance of structures that have withstood the test of terror, and the richness of Syrian architecture and design.
3:00pm Welcome tea and traditional Syrian desserts.
3:30pm Conversation between Majed Abdulsamed and George Batah inspired by the Center for Architecture's current exhibition: Syria Before the Deluge.
4:00pm Traditional music performed by singer Faraj Abyad, musicians Maurice Chedid (oud), Gabriel Dahrieh (violin), Eren Erdogan (nay) and Gilbert Mansour (percussion).

Doors Open 5:45 / Program 6:30 - 8:30pm
An evening with the visionary leaders designing new ways to educate and accelerate generations who have been denied learning because of conflict.
5:45pm Hors d'oeuvres and drinks.
6:30pm Short reading of "Home" by Syrian Youth Empowerment student.
6:40pm Screening of a short film by 17-year-old Mohammad Shasho, detailing his journey from Aleppo to Berlin. The film was created through the BYkids educational program.
7:05pm Interlude: Layale Chaker & Sarafand perform extracts of "Inner Rhyme", a suite that unveils musical threads of the twelve classical Arabic poetic meters, exploring the abstraction of language into their sound.
7:15pm Panel of distinguished experts, to discuss their revolutionary approaches to educating:
Ali Velshi, MSNBC anchor
Lina Sergie Attar, Founder & Executive Director, Karam Foundation
George Batah, Founder & Executive Director, Syrian Youth Empowerment
Scott Cameron, Executive Producer, International Social Impact, Sesame Workshop
Holly Carter, Founder & Executive Director, BYkids